July 11, 2017
We are now taking pre-orders for the upcoming debut full-length from the Finnish Atmospheric Black Metal band Kval!
The album is also accompanied by a sleek white shirt (the first ever for HDR) printed by Forest Passage Printing in very limited quantities. The print is the new Kval logo on the front, with the original logo on the back. If you order the Kval pack, an all-weather 11cm x 7cm is also included!
Since we have everything in stock ahead of time with this release, your pre-orders will begin shipping next week, more than a week ahead of the July 27 release date!
If you haven't heard it yet, the track "Harhainen" from the album is streaming on Bandcamp. We will make another song available soon!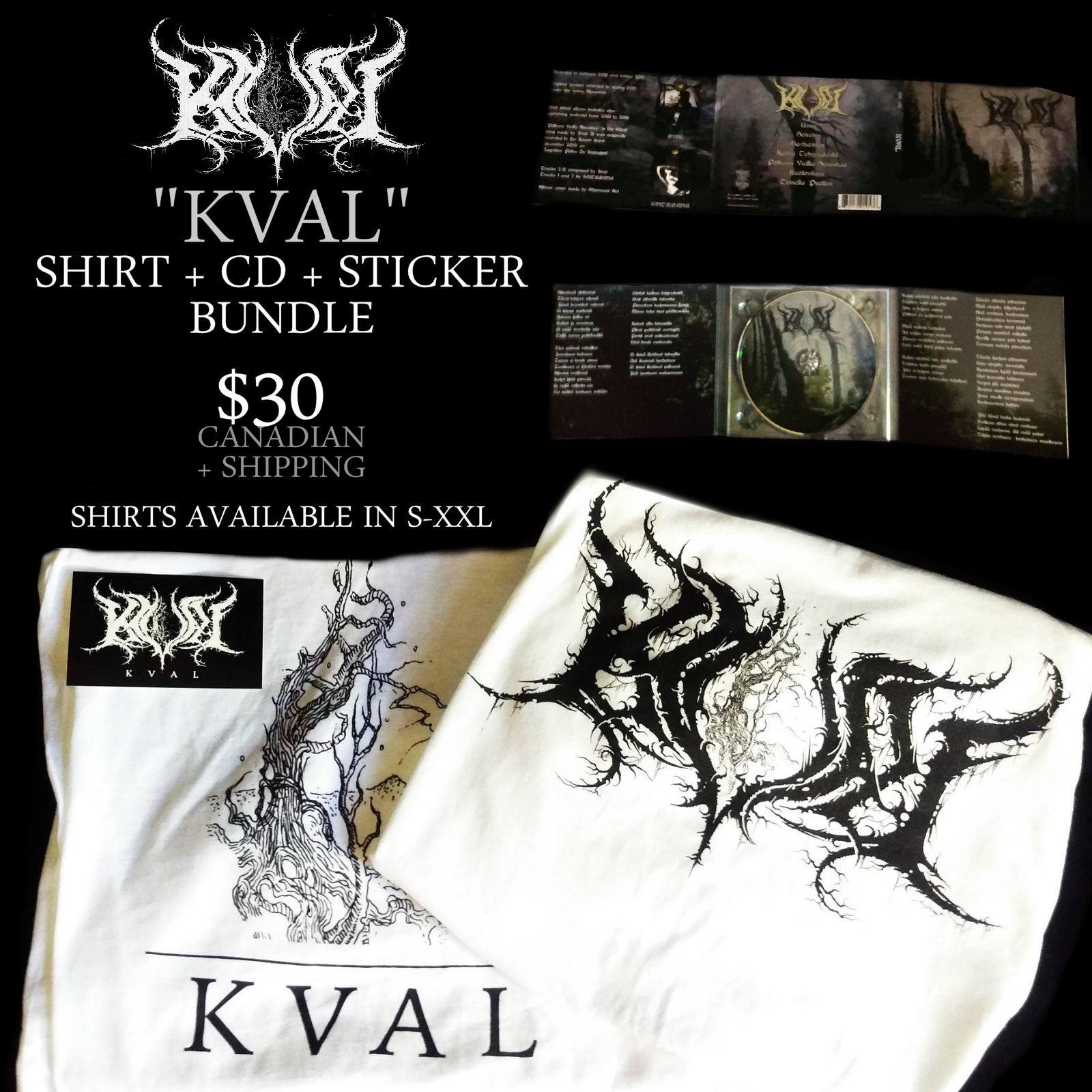 Option 1:
Kval Combo Pack: $C30 + shipping
PRE-ORDER
-Kval CD - presented in a 6 panel digipack
-Kval Shirt: - Printed on "Tultex" shirts, available in S- XXL
-Kval Sticker - 11cm x 7cm - all-weather, and super-durable.
Option 2:
Kval Shirt: $C20 + shipping
PRE-ORDER
Printed on "Tultex" shirts by Forest Passage Printing.
Available in S- XXL
Option 3:
Kval CD: $C10 + shipping
PRE-ORDER
Presented in a 6 panel digipack

More info:
As the broken wheel of life, emptiness, and chaos turns, the burden of sorrow can be so heavy that it brings any grown man to its knees. Kval, like a thick fog prevailing over an ancient forest, carries the last pangs of hope below this ominous landscape.
Cold guitars and tortured screams roll over slow-bleeding drum patterns like walls of icy wind, only interrupted from time to time by a short interlude. This 43-minute full-length album is articulated around four massive songs, ranging from 6 to over 10 minutes each, and rounded with three minimalistic ambient songs.
Originally released under the name Khaossos in 2015, this one-man project's debut album from Finland has been re-recorded, and was given a new artwork (courtesy Moonroot Art), thus carrying more than ever the purity and vacuity of atmospheric black metal. …Let yourself be carried away.
For fans of Burzum, Forgotten Woods, and Mortualia.
Posted by Nick Skog. Posted In : Album releases