Hypnotic Dirge Records is an independent non-profit record label and webshop based in Saskatoon, Canada. Our intention and raison d'être is to release quality expressive and eclectic art through aural manifestations. [MANIFESTO]

Hypnotic Dirge Records releases are available on bandcamp for streaming and unrestricted digital download for free / by-donation because our philosophy is rooted in the principle of open-source and unlimited access!


Hypnotic Dirge Records' full catalog is also making its way to Discogs for those who like to browse and buy records on there! Our webstore will always remain open but this provides another option.
Recent Hypnotic Dirge Releases
[ALL]

Upcoming Hypnotic Dirge Releases



Recent Video Uploads
[ALL]
*Click the play button, and then full-size button on bottom right to watch full-screen.
SUBTERRANEAN DISPOSITION - ALL ROADS LEAD TO PERDITION
[MUSIC VIDEO]
IMMENSITY - THE SULLEN [MUSIC VIDEO]
VERLIES - MALADIE
[MUSIC VIDEO]
NORILSK - NATURE MORTE [MUSIC VIDEO]

Latest Webshop Additions
May 2016; Four new albums
[Latest Additions Page]

Browse the latest additions to the webshop, updated monthly and imported from around the world!


VIDEO PREMIERE: Subterranean Disposition premieres video for "All Roads lead to Perdition" on No Clean Singing; Pre-orders of "Contagiuum and the Landscapes of Failure" album being accepted! May 17, 2016
Subterranean Disposition's new album, entitled "Contagiuum and the Landscapes of Failure" is less than a month away! Thus we - with the help of No Clean Singing who is hosting the premiere - are releasing a new video clip for the track "All Roads Lead to Perdition" a song and video which conjures up images of collapse and apocalypse.
Terry Vainoras comments: " All roads lead to perdition" touches lyrically on many facets of our decline as a species that could attribute to an extinction event or apocalypse in our lifetimes. To me the tone of the music invokes a similar feeling when reading Cormac Macarthy's "The Road"- a post apocalyptic journey down that road to hell, so I have tried to combine that feeling with the lyric concepts in an open to interpretation way, following the dynamics of the music very close visually on its long trip, from ignorance to disorder, death and beyond.
No Clean Signing also provides some thoughts on the song and video on their article: "From the rising sun over a desolate landscape that accompanies the song's opening, bereft notes to the scenes of a bleak and crumbling urban wasteland that soon follow, the imagery in the video begins to unfold in a rapidly changing montage of sights that provides a creative match for the haunting music.

The music's desolate, anguished intensity returns soon enough, but the back half of the song also includes a sublime guitar solo that oozes pain like sap from a felled tree. The discordant sounds that flicker across the drifting ambience of the song's finale seem a fitting way to conclude this hopeless but hypnotic journey."
Besides this, we're now also accepting pre-orders for anyone interested in the CD version of the album, which includes full lyrics and artwork by Coby O'Brien. $10 + shipping for the new album, or $15 + shipping to include Subterranean Disposition's 2012 debut self-titled album.

New Subterranean Disposition album "Contagiuum and the Landscapes of Failure" to be released in June 2016!
The track "Wooden Kimono Fixative" available for streaming and download now!
April 20, 2016
Melbourne based Experimental Death-Doom band Subterranean Disposition reveals the track "Wooden Kimono Fixative" from their upcoming sophomore album "Contagiuum and the Landscapes of Failure" which will be released on Hypnotic Dirge Records / Solitude Productions on June 13, 2016!

Taking the name from a Tom Waits coined phrase – ( Wooden Kimono being slang for a casket ) the track is a meditation on the human obsession with death and folklore of the end time.


With over two decades of experience in various projects, (including in bands such as Cryptic Darkness, The Eternal, and Insomnium Dei among others), Subterranean Disposition founder Terry Vainoras brings with him a plethora of writing and recording experience, and has used that to his advantage, in crafting an unmistakably bold, creative, and forward-thinking album that incorporates as many elements and techniques outside the doom metal genre as within it.

Asides from a wide variety of guitars, bass, and vocal styles, Terry also plays saxophone on the album, and enlisted the help of Dan Nahum (Bleakwood, The Veil, Dead River Runs Dry) on Drums, Gelareh Pour on Kemancheh, Qeychak Alto and voice, and Daniel Lucas on guest vocals. All-in-all, a wide variety of sound textures, dynamics, and emotion are incorporated into this album, ultimately crafting an album drenched in atmosphere and post-apocalyptic fervor with subtle and careful deliberation in every aspect of its writing and recording.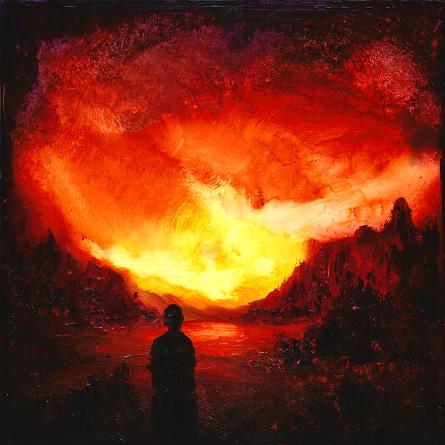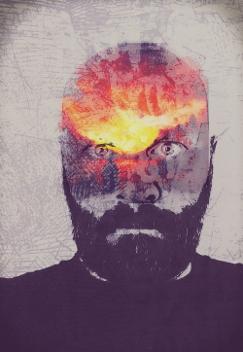 "Contagiuum and the Landscapes of Failure" was recorded, mixed, and mastered by Adam Calaitzis at Toyland studio in Melbourne Australia, and the album cover was crafted by acclaimed New York artist Coby O'Brien (whose cover art also appears on past HDR compilations). This album will be jointly released by Hypnotic Dirge Records and Solitude Productions on June 13, 2016.
The tracklisting for "Contagiuum and the Landscapes of Failure" is as follows:
1 - Hungry Ghosts on Rotten Soil
2 - Wooden Kimono Fixative
3 - Embittered
4 - All Roads Lead to Perdition
5 - A lifelong Slumber
6 - Aggressors Clothed as Victims

Subterranean Disposition Website | Subterranean Disposition Facebook

ALBUM RELEASE: Negative Voice - Cold Redrafted
April 11, 2016

Today marks the release of the Negative Voice's new album "Cold Redrafted" on Hypnotic Dirge Records / BadMoodMan Music!
Much has already been said about the album in previous posts, so to avoid repeating ourselves, I will simply say that this album should appeal to fans of Blackened Doom Metal, as well as prog, and post-rock listeners as it includes elements from a wide variety of genres.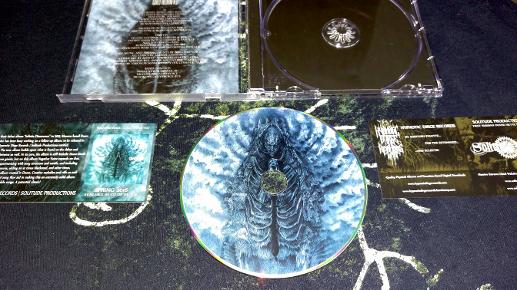 This past weekend, ahead of the album release, the knowledgeable and dedicated blog "No Clean Singing" premiered the album on their website and had the following the say about Cold Redrafted:
"The skill with which the band dynamically integrate the stylistic elements of doom, progressive metal, post-metal, death metal, and black metal is impressive. They spin out spellbinding melodies with the same sure hand that they use to unleash barbaric fusillades of raking tremolo riffs or rain down boulders of pavement-cracking doom. The end result is music that's mentally engrossing and memorable, yet completely galvanizing and pulverizing in its heaviness. And all the songs are winners — there are no weak links in this mighty chain.
The vocals display a similar variety, moving from very good clean, clear vocals to bestial growls and sulphuric blackened shrieks. The instrumental performers are all obviously quite talented and creative, and the music is beautifully produced in a way that provides both clarity and immense physical impact."
ALBUM RELEASE : Immensity - The Isolation Splendour
March 21, 2016

After years of preparation, today marks the release of the debut album from this Greek Doom Band on Hypnotic Dirge Records and BadMoodMan Music! Almost 80 minutes of music is included on the album including their original 2012 Demo "The Lonely Aquarelle."
Intricate, melancholic, and melodic doom that will appeal to listeners of My Dying Bride, Paradise Lost, early-Anathema. and Draconian among others is what you should expect to find on this album, so if you are a fan of early 90's doom, or gothic death-doom, check out the full stream on the Bandcamp link.
Those who pre-ordered the album will have their album shipped around April 1. The manufacturing and shipping of the album took a little bit longer than expected, but they should arrive here within a week! Sorry for the delay. (If it's any consolation, the Negative Voice pre-orders will ship earlier than its release date since both albums were manufactured together)