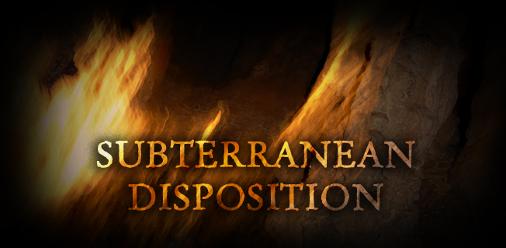 Subterranean Disposition is a one man Melodic doom/death metal/ ambient recording project hailing from Melbourne, Australia.
It's progenitor, Terry Vainoras, is a musician's musician of the Australian metal scene, with a decade and a half long career of recording and performing with many groups, in almost as many different sub-genres of metal.
From the grindcore of Damaged, to the Swedish melodic death stylings of Earth and on through the metallic hardcore of Order of Chaos, the black metal of Hellspawn and also the doom styles of Cryptal Darkness, The Eternal and Insomnius dei, Terry has covered much musical ground and Subterranean Disposition is the melting pot of creativity where the former and recent influences can meet and interplay.
Originally inspired by and conceived as a follow up to the music Mark Kelson had written for his and Terry's Collaboration on the Insomnius Dei album 'Illusions of Silence', the forthcoming self titled Subterranean Disposition album explores further the use of dissonance and ambience, lending more dynamics to the long passages of darkness and light, crafted from the influence of early 90's doom metal and Modern Sludge with forward thinking embellishments in song writing… as evidenced in the first released track 'The Most subtle of storms'.

With five compositions with the average time of around ten minutes each, 'Subterranean Disposition's debut self-titled album was released in October 2012 and following that Subterranean Disposition went on an East-Coast Australian tour with fellow Aussie doom band Lycanthia.

SUBTERRANEAN DISPOSITION OFFICIAL WEBSITE
SUBTERRANEAN DISPOSITION ON FACEBOOK
SUBTERRANEAN DISPOSITION BLOG












THE MOST SUBTLE OF STORMS [MUSIC VIDEO]
RELEASE: APRIL 14, 2012







PROLONG THIS AGONY [MUSIC VIDEO]
RELEASE: OCT. 13, 2012