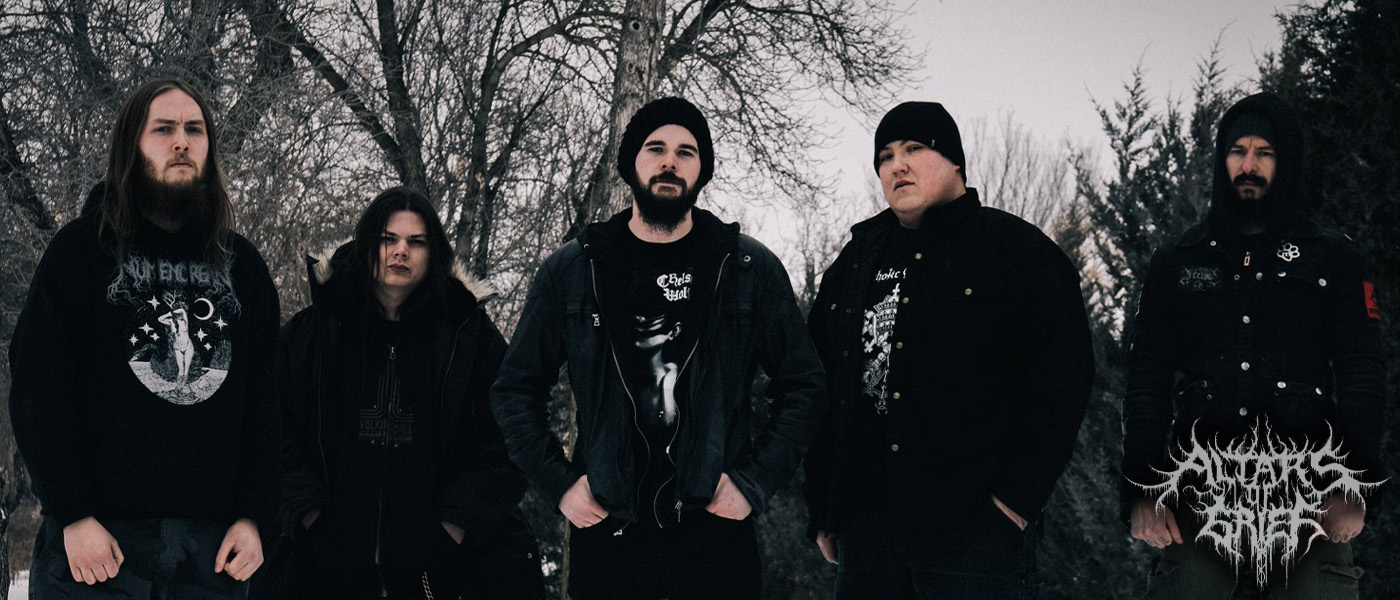 ALTARS OF GRIEF MMXIX : ZACK BELLINA - GUITARS, VOCALS | RYAN BENNET - DRUMS | DAMIAN SMITH - VOCALS, LYRICS | DONNY PINAY - BASS, VOCALS | NATE CRADOCK - KEYBOARDS, VOCALS
Formed in November 2013, Altars of Grief are a blackened doom metal band from the Canadian province of Saskatchewan. However, while this combination of styles adequately summarizes the band's sound, it's the influence of the desolate landscapes and the solitude of long, prairie winters that inspired the moniker of "prairie doom metal".
Over the years, the band has worked to develop a weighty concoction of death metal, sludge, funeral doom and atmospheric black metal along with a strong focus on story telling and the desire to convey authentic emotion.
This Shameful Burden, the band's first album, was self-released in 2014 and was later nominated for a WCMA in the "best metal album of the year" category. Then, in 2015, they joined forces with Nachtterror to release the very well-received Of Ash and Dying Light split on 10" vinyl on Hypnotic Dirge Records.
Now, after two years, the band has returned with their grittiest, most dynamic and most focused work to date. Woven throughout, is a tragic story of a deeply flawed man and his dying daughter, Iris.
Iris features the talents of cellist, Raphael Weinroth-Browne, who has also contributed to Musk Ox, Woods of Ypres, The Visit, Thrawsunblat and most recently Leprous, as well as artwork from renowned artist, Travis Smith (Opeth, Katatonia, Devin Townsend, etc.) With reflective, sombre, and personal lyrics and music drenched in atmosphere, this is definitely a band to watch that has arisen from the Central Prairie Plains!
Altars of Grief Website | Altars of Grief Facebook | Altars of Grief Bandcamp | Altars of Grief News


ALTARS OF GRIEF - THIS SHAMEFUL BURDEN
Altars of Grief - Only Our Scars [Music Video]
Released: June 2014


Altars of Grief - The Plague that Haunts the Darkness
[Music Video]
Released: May 2015

Altars of Grief - Of Ash and Dying Light [Teaser]
Released: April 2015

Altars of Grief - Brokem Hymns [Live Video]
Released: November 2018
[Live from Black Mourning Light Festival 2018; Edmonton, AB, Canada]