January 21, 2021
We are now launching pre-orders for the limited vinyl edition of Frigoris' 2013 album "Wind"!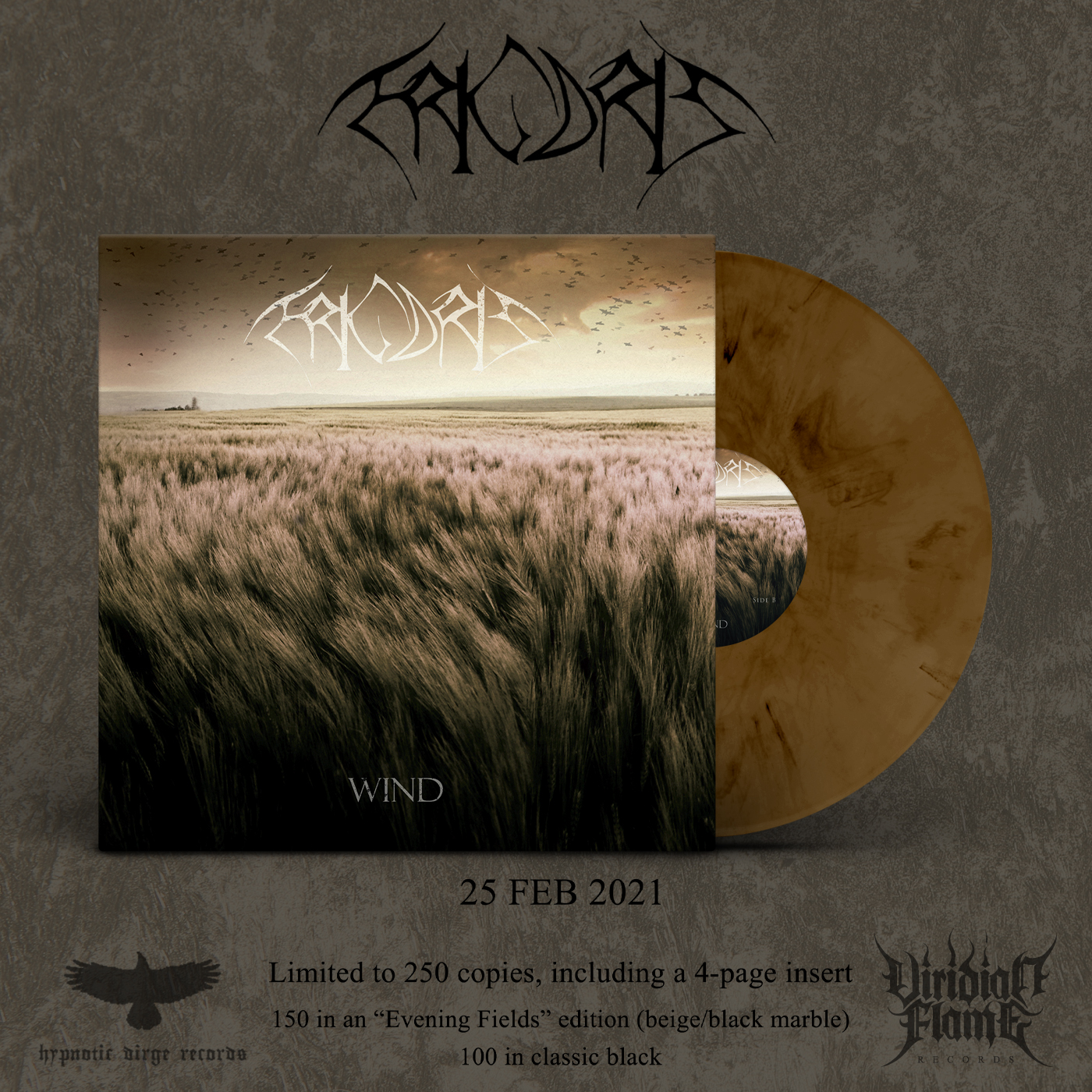 Order Vinyl
Digital
[Name-your-price]
Formed in 2007, Frigoris have released 4 full length albums, cementing their mastery of the Atmospheric/Pagan Black Metal genre. Their second album, "Wind", can be seen as the turning point in their career, marking a bit of a stylistic shift from their early days and bringing them the attention they very much deserve.
Specifically re-mastered for vinyl by Nicolas Keller at Red Door Studios in Heusenstamm, Germany and featuring brand new artwork on the insert, the 2021 vinyl edition of "Wind" is an ultra limited collector's edition with only 250 copies pressed worldwide. There are 150 "Evening Fields" (beige with black marbling) vinyl while the remaining 100 vinyl are classic black.
Hypnotic Dirge Records will be distributing 83 copies in total (50 evening fields, 33 classic black), primarily for North American buyers, while the remaining copies will be available through Viridian Flame Records in Belgium, and later on, directly through Frigoris at shows (If and when COVID restrictions ease)
"Wind" is available to pre-order now!
*Orders will ship in late February/early March
Tracklist:
A1 Windgeflüster
A2 Zwischenwelten
A3 Im Keim ertrunken
A4 Frühlingsnacht
B5 Hauch
B6 ...und Asche rinnt durch meine Hände
B7 Ode an verlorene Seelen
B8 Wenn die Maske bricht
Record Specs:
250 copies, divided into 2 different colors :
--- 150 evening fields (beige/black marble)
--- 100 classic black
- 140g vinyl at 33 rpm in black poly-lined inner sleeves
- 350gsm sleeve, with matte lamination
- Includes 4 page insert
- packed in a resealable plastic sleeve
Links:
Posted by Nick Skog. Posted In : Frigoris