ALBUM RELEASE: Feral Light - Life Vapor
May 22, 2020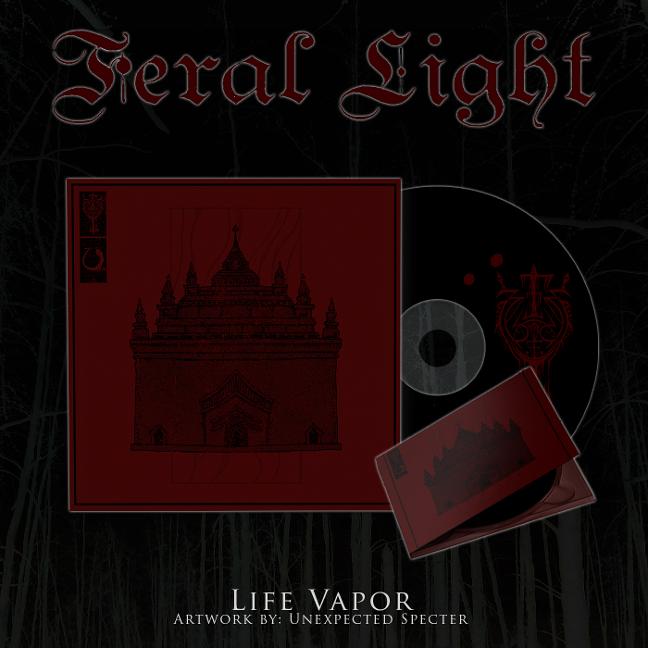 2020 marks the first release of Feral Light under the Hypnotic Dirge Records roster. The name is not new to the scene, being led by guitarist Andy Schoengrund (ex. Empires, ex. Wolvhammer), who formed Feral Light in 2015 with drummer Andrew Reesen, and shortly thereafter released a demo, an EP, and two full-lengths - 2017's Void/Sanctity and 2019's excellent Fear Rides a Shadow.
Firmly anchored in Blackened Post-Metal, Life Vapor - their third album -, not only builds up on the foundations of its predecessor, but it also cranks it up on all fronts. It instantly pulls you in with its killer mix of melodic and dissonant riffing, combining and incorporating various styles including elements of post-metal, black n roll, doom, and second-wave black metal. This album is loaded with catchy riffs and memorable hooks exhibiting momentous black n roll sections that transform into triumphant post-metal, somber doom metal, and everywhere in between. Life Vapor is an album that manages to explore a wide berth of what the blackened sub-genres can manifest while remaining rooted by strong and purposeful songwriting and a balanced mix that highlights the instrumentation.

A note on orders:
Everything in the Feral Light bundle is in stock except for the CD's which are expected to arrive before the end of the month. If you've ordered a shirt, expect your order to ship this weekend, but if you ordered a bundle or CD, it will be approximately another week until your order is shipped.

[Read More]
UPCOMING VINYL RELEASE: NONE - Life has gone on long enough
May 8, 2020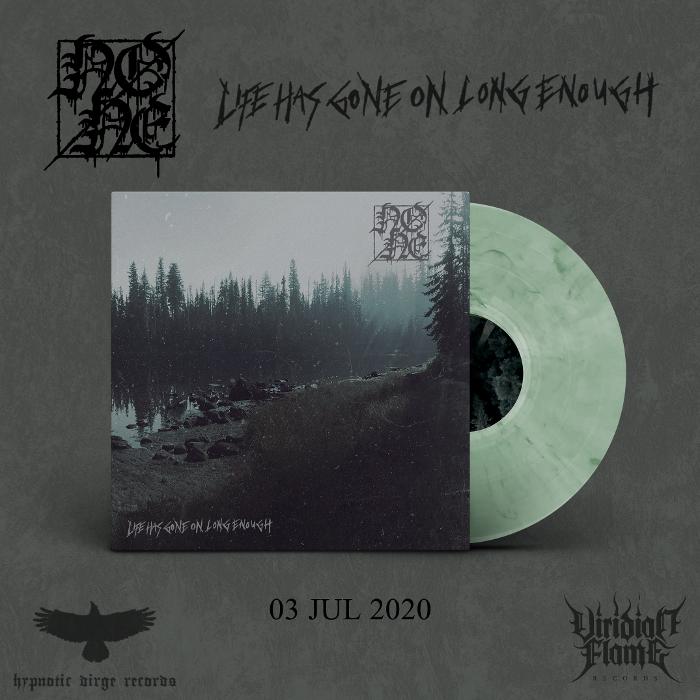 Following the vinyl release of NONE's debut album earlier this year, Hypnotic Dirge and Viridian Flame are thrilled to announce a vinyl release date for NONE's second chapter "Life has gone on long enough."
Written during the latter half of 2017, and originally released on CD and Digital formats on April 11, 2018, this momentous album will now also be available in vinyl format beginning July 3, 2020.
Much like the first record, this one will also be released in an edition of 300 copies, split evenly between Hypnotic Dirge - for North American buyers, and Viridian Flame - for European buyers. Those living outside of those regions can order from whoever they want. The record will be available in three editions, "verdant grave", "dead and gray", and classic black. This time around, instead of a booklet, the record will come with a panoramic 90cm x 30cm fold out poster which will display the brilliant album art in all its glory.
Pre-orders will go live later this month!

[Read more]
SONG RELEASE: Omination - The Pale Horseman
May 1, 2020

A new stand-alone track from the Apocalyptic Funeral Doom project "Omination" is now released!

This track, entitled "The Pale Horseman" and spanning nearly 30 minutes is a commentary and interpretation of the COVID-19 pandemic.
Available to stream and download for free on
Bandcamp, Youtube, Spotify, etc
NONE - Life has gone on long enough [Depressive Black Metal || Oregon, USA]
[07.03.2020]
VINYL CO-RELEASE WITH
VIRIDIAN FLAME RECORDS

PRE-ORDER VINYL
PRE-ORDER SHIRT

Hypnotic Dirge Records releases are available for unlimited streaming and name-your-price (no minimum!) download in the format of your choice on Bandcamp.

You can also download our entire digital discography (over 100 albums!!!) for a $C25.00 minimum! Digital donations help fund more merch and album releases in general!

Hypnotic Dirge Records is an small independent Black and Doom Metal record label and webshop based in Esquimalt, Canada. Founded in 2008, our intention and raison d'être is to unearth hidden gems and release quality expressive and eclectic aural art. [Manifesto]