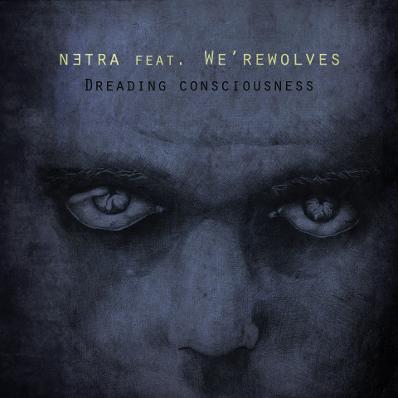 CLICK ON THE ALBUM COVER TO DOWNLOAD

netra ft. We'rewolves - Dreading Consciousness EP

1 - Definition of Love [4:02]
2 - Whore [5:08]
3 - Enter the Void [7:08]

Total Playing Time: 16:18

A strange and unexpected collaboration between the black metal/trip-hop hybrid netra and the unconventional rap duo We'rewolves has led to the creation and release of a new digital EP entitled "Dreading Consciousness." After releasing the previous two netra full-length albums on a physical medium, Hypnotic Dirge Records is pleased to release this experimental collaboration as a free digital download!
netra, the project of solo member Steven LeMoan has always written music that has pushed the limits of conventional black metal, but this will undoubtedly prove to be by far the biggest deviation from metal-based instrumentation to date! Always present to a certain degree, the trip-hop elements in netra's music are given full reigns on "Dreading Consciousness" and this is the first netra release almost totally void of black metal vocals, instead allowing rap vocals to take center stage. However, the dark undertones of urban life, boredom, and depression remain but are instead presented through a totally different approach.
We'rewolves - a rap duo from California - is comprised of veteran emcees Hockeymask and Konsept. Known for their above average knack for wordplay and innovative imaginations, the two have created quite a name for themselves in the Central California underground scene. With a love of all things dark and bizarre We'rewolves have frequently used samples in their previous releases from Occult Psychedelia, Crust Punk, and Black Metal while their lyrical themes have always focused on the struggles of life, depression, suicide, drug-abuse, and insanity.
Drug-fueled, mentally crippling claustrophobic horror rap with a totally depressing vibe and a contempt for humanity is what is presented in this short collaborative EP. The stylistic instrumentation of trip-hop with the occasional foray into a black metal sound is surprisingly fitting with the lyrics and themes presented within. Though possibly unexpected, it can be said with a certain degree of confidence that you have not heard anything like this before. This EP has the potential to be totally polarizing but fans of music who explore various genres might very well consider this essential.
Jana B. - Artwork (jany.blahova@gmail.com)