Harrow is a psychedelic black metal band with strong folk undertones which arose in Victoria, BC. and has been based out of Vancouver Island and the mainland ever since. The project was founded as a solo endeavor by Ian Campbell in 2009 but soon afterwards brought on Kyle Brickell to play drums on the "Forest Altar" demo which was recorded in the last days of 2010 and released in 2011.
By the spring, Chase Sutherland had joined the band on bass and Harrow recorded their first full-length album "Wanderer" - a mixing of black metal and ritualistic folk. (Chase left that winter and Kyle and Ian continued as a two-piece for the better part of a year. )
Writing for their second full-length took place in 2012 and in the early days of 2013, "Fragments of a Fallen Star" was released, a monumental step up in songwriting and cohesive atmosphere, this record likely includes Harrow's most Black Metal material in three tracks but also opens with the 17 minute long title track. "Fragments..." was released digitally and on tape by the band's own imprint "Shadow of the Stone Records" and re-released later in 2016 by Hypnotic Dirge Records.
Around the release of "Fragments..." Kyle left to move to Germany and Ian re-formed the band with Jacob Moyer on drums and Derrek Burton on bass. Derrek left in the summer of 2013 and was replaced by Kat Mason.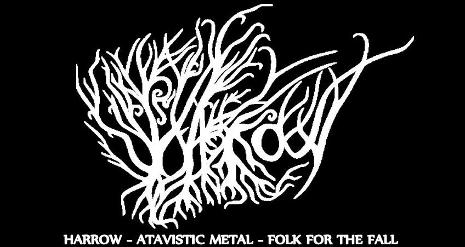 The new lineup created "Fallow Fields", the third full-length from Harrow. Recorded between February - April 2014, "Fallow Fields" ended up as a more folk-oriented album with a really honest carefully-crafted, and organic sound. Ian played electric and acoustic guitars, voice, bodhrán, keyboards, and percussion and the recording lineup for the album also included Alexia Horozian on violin and Stephanie Knittle on cello. "Fallow Fields" was released on tape in early 2015 by "Broken Limbs Recordings" and then in the summer on CD by "Avantgarde Music."
Early 2015 was a busy time for Harrow, as one month after the tape release of "Fallow Fields", an epilogue EP of sorts was released entitled "The River". Recorded a few months prior in the fall of 2014, "The River" completed some ideas which were originally conceived around the same time as "Fallow Fields". The sounds of the river heard on the "Awake Before the Dawn" - the last track of "Fallow Fields" picks up at the beginning of "The River."
Harrow Bandcamp
|
Harrow Facebook