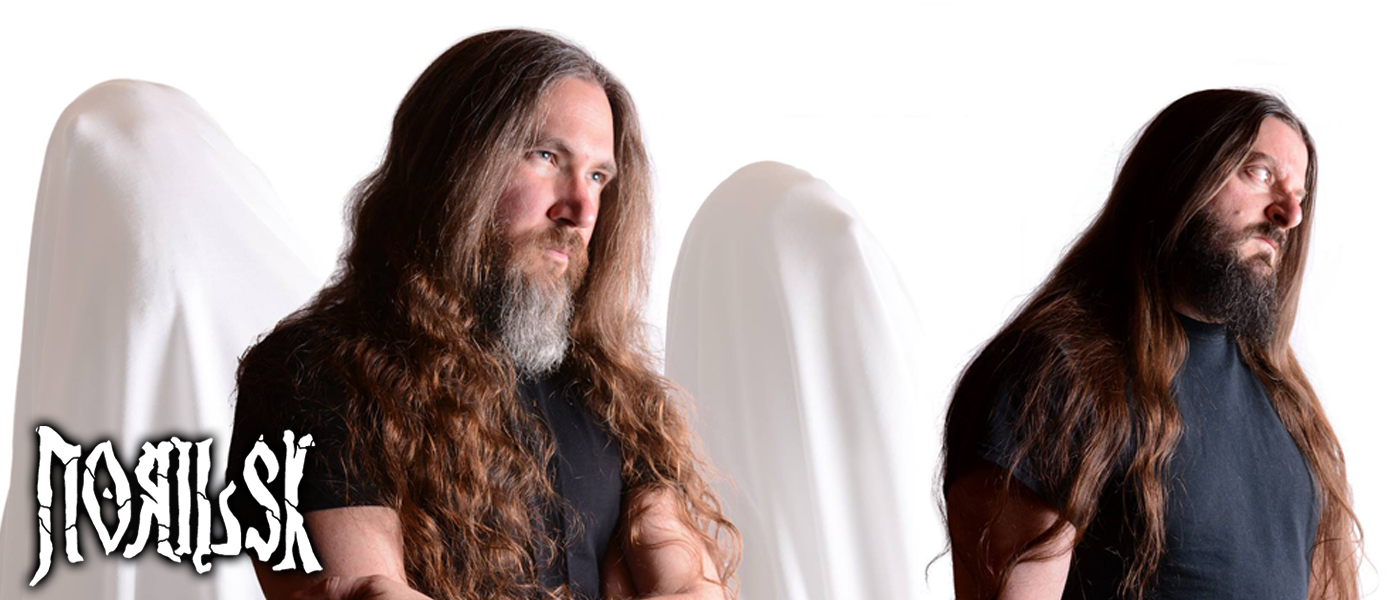 NICOLAS MIQUELON - MUSIC AND LYRICS | NICK RICHER - DRUMS AND BACKING VOCALS

Remote is the North, and long are its nights. Solitude is every man's friend and doom is his lullaby.

Named after Siberia's northernmost city, home of a famous heavy metal smelting complex, Norilsk is a doom-death band from Gatineau/Ottawa, Canada. Characterized by slow and crushing riffs, death growls, icy melodies and atmospheric arrangements, its music draws inspiration from the 1990's doom-death scene, while incorporating a heavy dose of eclectic and contemporary influences.
Norilsk consists of two core band members, Nic Miquelon and Nick Richer, along with live collaborators. Since its beginnings, it shared the stage with a number of bands, including High on Fire, Monolord, Weedeater, Uada, Grim Reaper, Algoma, Altars of Grief, Nachtterror, Longhouse, Tunguska Mammoth, and much more.
After self-releasing an introductory EP, Japetus, in 2014, the band released their first full length album The Idea of North in 2015 on Hypnotic Dirge Records (CD) and Dwyer Records (cassette). The album received a lot of attention from around the world, especially from the sludge and doom-death community, leading Norilsk to release it on vinyl the following year on War on Music Records and Sunmask Records. In the Fall of 2016, the band toured over 8,000 km across Canada in support of The Idea of North, and played festivals such as Black Mourning Light Festival (Edmonton) and Earslaughter Festival (Montréal). In this period, it also took part in several compilations and recorded an exclusive song for a metal tribute album to Mylène Farmer, on GS Productions (Russia).
In 2017, Norilsk presented a new full length album, Le passage des glaciers, again via Hypnotic Dirge Records. Consistently turned towards the horizon, this opus expanded considerably the Norilsk sound and themes, carrying the party a few miles further into the distance.
One year later, on October 12, 2018, the band released a brand new offering; an omen that autumn will be tuned down to doom and the bitter cold. Weepers of the Land is the follow up mini-album to last year's full length Le passage des glaciers, presenting a more abrasive and visceral Norilsk weaving stories of heritage, loss, and displacement through dynamic and atmospheric blackened death-doom metal. Weepers of the Land will be Norilsk's third installment on Hypnotic Dirge Records.
Vocalist/bassist Nic M. comments: "When we entered Wolf Lake Studio in 2017, we had enough new material to record nearly two albums. We chose to record it all, working with producer Mike Bond once again to explore the spectrum of possibilities and see what this beast would look like before deciding on how we would separate and release the material. On last year's Le passage des glaciers, the songs represented a cold and solitary travel inward, and we kept the more exploratory and collaborative songs for this year's follow up. Weepers of the Land could therefore be seen as the second half of this recording session, one where Norilsk has been cycling inward and outward."
Norilsk Website | Norilsk Bandcamp | Norilsk Facebook | Norilsk News



Norilsk - Weepers of the Land
Released: December 3, 2018
DIRECTED BY: ERIK LABOSSIERE

Norilsk - The Way
Released: September 13, 2018
CLIPS FROM: SECRETS OF CHINATOWN - THE BLACK ROBE (1935)


Norilsk - La voie des morts
Released: April 18, 2018
DIRECTED BY: ERIK LABOSSIERE / HVY PRODUCTIONS


Norilsk - Noirceur Interieure
Released: November 20, 2017
DIRECTED BY: ERIK LABOSSIERE


Norilsk - Nature Morte
Released: September 3, 2015
DIRECTED BY: HVY PRODUCTIONS
Norilsk - Japetus
Released: March 6, 2015
DIRECTED BY: PETR MAUR