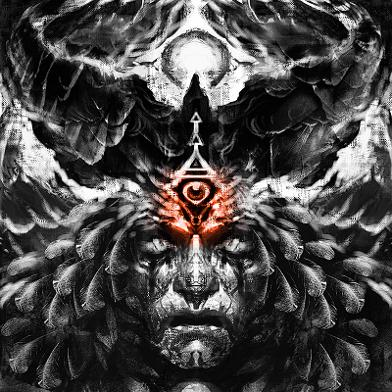 After releasing a brilliant debut album "Subradiant Architecture" last summer, the massachusetts-based duo Obsidian Tongue is back with their second installment "A Nest of Ravens in the Throat of Time." Cold, unwavering, primal black metal with a rich organic sound and real melodic sensibilities, Obsidian Tongue has been praised for their exceptional balance of the melodic and raw aspects of black metal, and that is certainly apparent in the new material.
In May 2013, Obsidian Tongue returned to the analog Mystic Valley Studios in Medford, Massachusetts to record the new album. Consisting of 6 songs averaging 9 minutes in length, "A Nest of Ravens in the Throat of Time" is a psychedelic and introspective journey through the collective unconscious of Man and the dark half of the emotional spectrum; A sonic depiction of the spiritual affirmation and personal evolution attainable only through sorrow, anger and disillusionment. A noteworthy contribution to this musical odyssey has been made by John Haughm of the legendary dark metal outfit Agalloch, taking lead vocal duties for the album's title track. Released in an appropriately minimalist fold out booklet with all lyrics included, Obsidian Tongue's second release is the perfect sonic catharsis for fans of Enslaved, early-Opeth, Wolves in the Throne Room, Agalloch, Alda, Panopticon, Falls of Rauros, and Skagos.
....err fuck the specifications, for black metal fans in GENERAL.


STREAMING / DIGITAL DOWNLOAD
Unlimited streaming of full 'A Nest of Ravens in the Throat of Time' album
*Click on "Buy" button to buy the digital download for $5.00





THE PRESS

As far as black metal goes however, Obsidian Tongue stays rather subdued and subtle, which I appreciate quite a lot. You can hear that it often goes all out and tries to be intense, but everything sounds so distant that it's more of a soundscape than an intense wall of noise. A Nest of Ravens in the Throat of Time is an album that affirms several strengths of bands in the scene and creates an atmospheric black metal album tinged with an almost tribal and spiritual energy and it's damn infectious
-Angry Metal Guy
As with any good atmospheric black metal album this has the ability to cradle you in it's mist filled haze and lull you off into a gentle trance and for me that is the mark of a truly impressive record. Peaceful and calming one moment, aggressive, pleading and raw the next and always charming!
____________________________________________________________________________________________________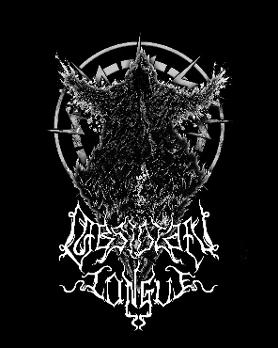 OBSIDIAN TONGUE STICKERS

You'll receive one for free in any Obsidian Tongue CD order!

LIMITED QUANTITIES


DIMENSIONS:
12.5 CM X 9CM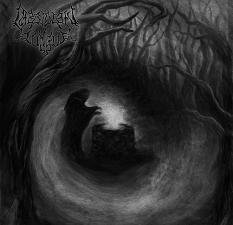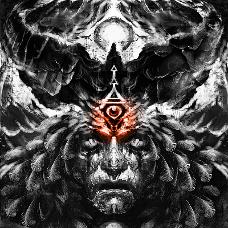 OBSIDIAN TONGUE 2 FULL-LENGTH ALBUMS PACK
VOLUME I : SUBRADIANT ARCHITECTURE [2010]
A NEST OF RAVENS IN THE THROAT OF TIME [2012]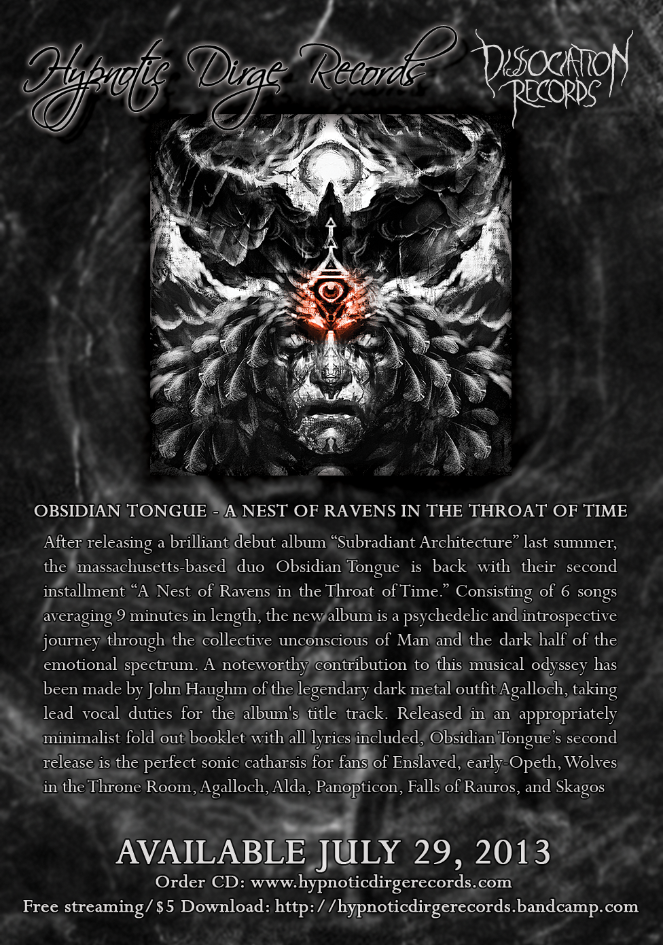 ____________________________________________________________________________________________________