HDR - 014 : Our Diabolical Embrace - Immortal Night Laments EP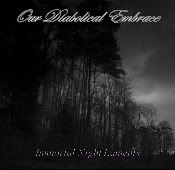 Released: September 19th, 2010
Details: Pro-CDr 8 Page Booklet - SOLD OUT Genre: Symphonic Black Metal
_______________________________________________________
From: The Inarguable Blogspot
www.theinarguable.blogspot.com
My first impressions upon listening to Our Diabolical Embrace, a one man project founded by N. Skog (Ancient Tundra/ proprietor of Hypnotic Dirge Recordings) were generally positive. The music on the EP, Immortal Night Laments, described on the official MySpace as a hybrid of symphonic black metal and gothic metal with influence from early Cradle of Filth (say what you will about them now, the old material will always be cool) had me interested before I even hit play.
Obviously, there are similarities in this project to a lot of other symphonic black metal projects, but the key here is that main man N. Skog knows his way around the genre. The vibe of evil romance is genuine and well crafted, so fans of this kind of music should find it successful. Thematically the project is intriguing at first glance, but vampires and the like are nothing new to black metal, so it remains to been if Our Diabolical Embrace can really make it work. Titles of both the EP and a few of the songs are somewhat clichéd, and the sample lyrics on the MySpace, closing with "And her cunt is mine to dine" had me laughing more than I think was intended.
Musically Skog knows what to use and when. Be it a bell-pad, piano, or just some atmospheric strings, he shows compositional competence. None of the orchestral interludes lag, and the guitars are doing more than following chord progressions, sometimes shining through with their own interesting leads and melodies. Generally, each song sounds like it was written with full attention and heart. This is not the kind of underground black metal that does one thing for the duration of a recording. There are pick-ups and slow-downs, and the majority of the material is well executed and enjoyable enough to keep the listener interested for the duration of the EP.
The one major issue with this release is the mix. Since the MySpace clarifies that Immortal Night Laments is intended to be a sort of demo EP, let these comments serve simply as constructive criticism. The recording is rather unbalanced, even by black metal standards. There is a time and place for everything, and Darkthrone style recording can be a perfect complement for certain music, but Our Diabolical Embrace could benefit from more dynamics. Often the snare drum is absent, and the cymbals sound so thin and trebly they become annoying (perhaps due to the use of a very obviously MIDI drum kit). The guitars are often marhsmallowy and buried, and because the music is very melodic it can detract from the experience (as in the second track "A Spiritual Oppression"). Much of the time interesting melodic instruments are lost simply because they are too quiet.
All in all, the material from Immortal Night Laments is worth looking into. N. Skog has produced an intriguing demo containing directional ideas that will hopefully be expanded upon in the future. If he continues to make music of this caliber and can give it a slightly better production treatment, Our Diabolical Embrace will stand out as a good example of what the genre of symphonic/gothic black metal can offer.
Reviewer:
Bryan A. Wysopal
_______________________________________________________
From: Defiance Webzine
www.myspace.com/defiancemagazine
Hypnotic Dirge Records are back with another release this time from Our Diabolical Embrace with "Immortal Night Laments EP". Hypnotic Dirge Records specialises in black metal and dark ambient and Our Diabolical Embrace is no exception to these genres.
Opening the EP with "Tragedy 'neath Nightfall's Grace" the impact of the typical growling vocal tones and distorted backing guitars that relate to this genre sets the tone for what I thought was a great EP, my only pitfall being the mixing of the CD. I guess I wanted it louder and to be able to hear more aspects of the music. I wish I could have heard a real drum kit just for that impact, especially on "Entwined Within Our Diabolical Embrace". I really liked that track it reminds me of early Cradle of Filth in some respects, I just wish I could hear real drums to have that impact which this track truly deserves.
The stand out track for me on this EP is "A Love Forever Engraved With Sorrow". It really does pull at the emotional heart strings and your not quite sure why until you see the title, it's tracks like this which are open to the listener's interpretation that really nail you emotionally and this is one of the main reasons why I love this track so much. It's raw, it's honest and depending on what kind of mood your in, the song can take you almost anywhere in your mind. Finally the last track on the EP "Untitled A" gives the EP a sense of closure to the journey that this music has taken you on. With stunning piano and strings adding to the mind field your already experiencing this CD really does take you on an emotional roller-coaster.
Reviewer:
Acid Angel
_________________________________________________________
From: Lunar Hypnosis Blogspot
www.lunarhypnosis.blogspot.com
Our Diabolical Embrace is the latest project from Nick Skog who also performs in Ancient Tundra and runs Hypnotic Dirge Records.
Completely different from his glacial ambient work with Ancient Tundra, Our Diabolical Embrace's sound is more situated in the symphonic/Gothic black metal genre though I find it hard to make any obvious comparisons. It's no real surprise with this genre, but the main focus is the synthesizers while the guitars are mostly just a pulse in the background with a drum machine rumbling alongside it. The synths however are performed quite well and they paint a musical portrait of various atmospheric qualities that keep my attention and allow me to return to this EP with just as much interest as I had upon my initial listening.
'Tragedy 'neath Nightfall's Grace' stands out as the EP's strongest point and perhaps it could be because it's made in collaboration with Mort from Exiled From Light who handles the guitar and vocals on this song. This one has a really strong driving edge to it, which is quite gripping too. It's also the only song that makes better use of the guitar as some interesting work is present, plus the production is slightly better on this song compared to the other four songs. After two more songs in a similar vein (track 3 being the best) the EP concludes with a short ambient piece and then moves to the bonus track, 'Untitled B,' which is from a defunct project of Nick's called, 'A Dark Fantasy.' This particular song is actually my second favorite song on the EP as its an orchestral ambient/neo classical piece with just the drum programming and although it's a bit hard to describe it has it's own unique flavor to it.
As a whole the listener is treated to some fine music here, although I'd make better use of the guitar on all tracks as well a more fitting production would benefit the project in the future. At 31 minutes this limited 40 copy EP could go fast once word spreads among the symphonic/Gothic black metal hordes.
Reviewer:
Joe Mlodik
__________________________________________________________
From: Nocturnal Cult Webzine
www.nocturnalcult.com
N. Skog, better known for his work with the Canadian ambient project Ancient Tundra, surprises with his latest musical offering, the symphonic black metal band Our Diabolical Embrace. The debut five song EP journeys through more mainstream symphonic influences like Dimmu Borgir but then strips these influences back for a darker sound. The opener Tragedy 'Neath Nightfall's Grace uses pompous, swirling synths with a mid-tempo, rhythmic battering of death metal infused blackness. The tempo is quickened and the music streamlined on A Spiritual Oppression which injects orchestral keys into a speedy pace for a sound somewhat akin to a primitive Limbonic Art. Though the feeling is astral in nature, the music summons a savagery all its own. Entwined Within Our Diabolical Embrace is an ominous thundering track. Different textures of keyboards drench the music in their rich brushstrokes as the totalitarian skeleton of the song dominates the listener. Near the 5:45 mark a beautiful synth passage brings to mind some of the instrumental work from Astral Sleep era Tiamat. Slow graceful movements that haunt your mind. Even more chilling is the ambient, symphonic cocoon that descends upon you with A Love Forever Engraved By Sorrow. The EP closes with an untitled bonus track which brings the rich piano of Stormblast to the foreground and meshes it with slow black rumblings that sound like distant thundering. The music could benefit with a more natural drum sound versus the drum machine that N. Skog uses throughout this recording. Though the EP reminds me of some of the less obscure synth oriented bands from the underground, the overall effect of Our Diabolical Embrace is a simpler, less fame-obsessed sound. Immortal Night Laments is along the lines of what Dimmu promised on their For All Tid album, dark and evil snyth oriented black metal.
Reviewer:
Bradley Smith
__________________________________________________________
From: Funeral March Magazine
www.myspace.com/funeralmarchzine
Published:
Funeral March Magazine; Issue #7
Before I listened to this I read the paper that came with this promo, the influences was what surprised me the most. The mentioned bands are Cradle Of Filth (1994-2003), Nightwish, Graveworm and Dimmu Borgir. I guess the Nightwish influences are the symphonic parts because I see no other connection with that band on this record really. The other mentioned band is not hard to see how they have influenced N. Skog. While we are into this namedropping thing I would also like to say that it somehow also sound like The Kovenant's album "In Times Before The Light" (remix). So now you know how it all sounds approximately. It is a quite good album I wish though that the sound of the drums were thicker (obviously programmed drums, which I don't like that much). Otherwise it is a good album that should satisfy fans of the above mentioned bands!
Reviewer: O.O.
__________________________________________________________
From: Pest Webzine
www.pestwebzine.ucoz.com
It's doesn't get so often an Underground band admits and even promotes the fact they are influenced by Cradle Of Filth, although I don't see the reason. The '90's "trv black metal" campaign anti CoF had deeper effects than expected, that's for sure. Our Diabolical Embrace is the Canadian project of Skog, the owner of Hypnotic Dirge Records, so it's natural he released his own project on his label. This is its debut EP, a 5 tracks EP lasting for half an hour and stricty limited to only 40 copies. The first 4 tracks are composed for this EP, but the last one is a bonus, a track from Skog's previous project, A Dark Fantasy. The CoF influences kick in from the start especially on keyboards and vocals style, and here I mean old CoF when they were just rising. The keyboards part is the best on this EP, very catchy, but the vocals, although good strangled-like screams, are a bit monotonous without variations. The guitar work is simple and seems to be not so important in ODE's music. The drums, on the other hand, are the worst part and not because they are programmed, but their sound kinda ruins the work Skog did on keys. Being a debut release it can be considered normal for any band to experiment, so I hope he will choose a better studio next time, or at least choose to work more on the mixing and mastering part of the release. All in all we get an EP that will appeal to old CoF followers, with plenty of interesting things on it, but with a bad sound.
Reviewer: Adrian
Rating: 6.5/10
____________________________________________________________________________________________