i: Origin and debut self-titled album
Subterranean Disposition is a solo Melodic doom/death metal/ ambient recording project hailing from Melbourne, Australia.
Its progenitor, Terry Vainoras, is a musician's musician of the Australian metal scene, with a career of over two decades of recording and performing with many groups, in almost as many different sub-genres of metal.

From the grindcore of Damaged, to the Swedish melodic death stylings of Earth and on through the metallic hardcore of Order of Chaos, the black metal of Hellspawn and also the doom styles of Cryptal Darkness, The Eternal and Insomnius dei, Terry has covered much musical ground and Subterranean Disposition is the melting pot of creativity where the former and recent influences can meet and interplay.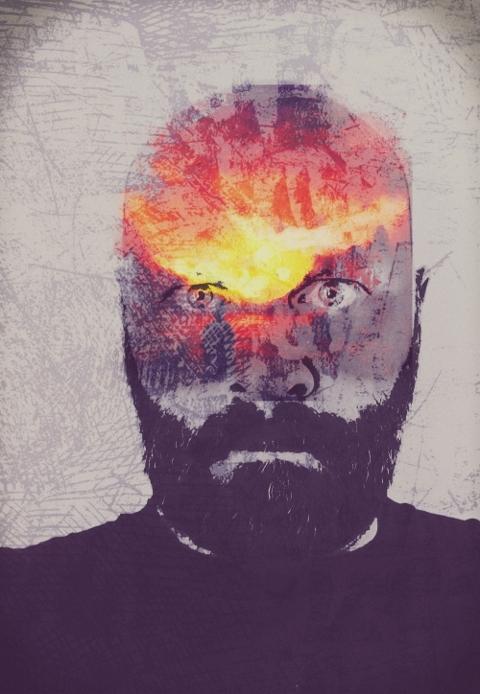 TERRY VAINORAS 2016
COMPOSITIONS, GUITARS, BASS, VOCALS, SAXOPHONE
Originally inspired by and conceived as a follow up to the music Mark Kelson had written for his and Terry's Collaboration on the Insomnius Dei album 'Illusions of Silence', the debut self-titled Subterranean Disposition album, released in the fall of 2012 explored further the use of dissonance and ambience, lending more dynamics to the long passages of darkness and light, crafted from the influence of early 90's doom metal and modern Sludge with forward thinking embellishments in song writing.
After releasing the debut self-titled album in October 2012 through Hypnotic Dirge Records, Subterranean Disposition went on an East-Coast Australian tour with fellow Aussie doom band and label-mates Lycanthia in January of 2013. ii: Contagiuum and the Landscapes of Failure Beginning in late 2013 and well into 2015 Subterranean Disposition worked on tracking demos for the forthcoming second full-length release. The process was long and arduous, with a sporadic writing and recording schedule, some challenging new instrumentation to learn and perform, and a number of guests to book into the studio and record. Finally in early 2016, the new album - which was to be named "Contagiuum and the Landscapes of Failure" was completed and prepared for release.
Some of the guests included in the "Contagiuum…" album include Dan Nahum (Bleakwood, The Veil, Dead River Runs Dry) on Drums, Gelareh Pour on Kemancheh, Qeychak Alto and voice, and Daniel Lucas (Painted Black) on guest vocals, while Terry himself has learned and performed saxophone on the album. "Contagiuum and the Landscapes of Failure" was recorded, mixed, and mastered by Adam Calaitzis at Toyland studio in Melbourne Australia, and the album cover was crafted by acclaimed New York artist Coby O'Brien (whose cover art also appears on past HDR compilations).
On May 17, a video clip for the track "All Roads Lead to Perdition" was premiered on "No Clean Singing." "Contagiuum and the Landscapes of Failure" was jointly released by Hypnotic Dirge Records and Solitude Productions on June 13, 2016.


Subterranean Disposition - Live Photos 2013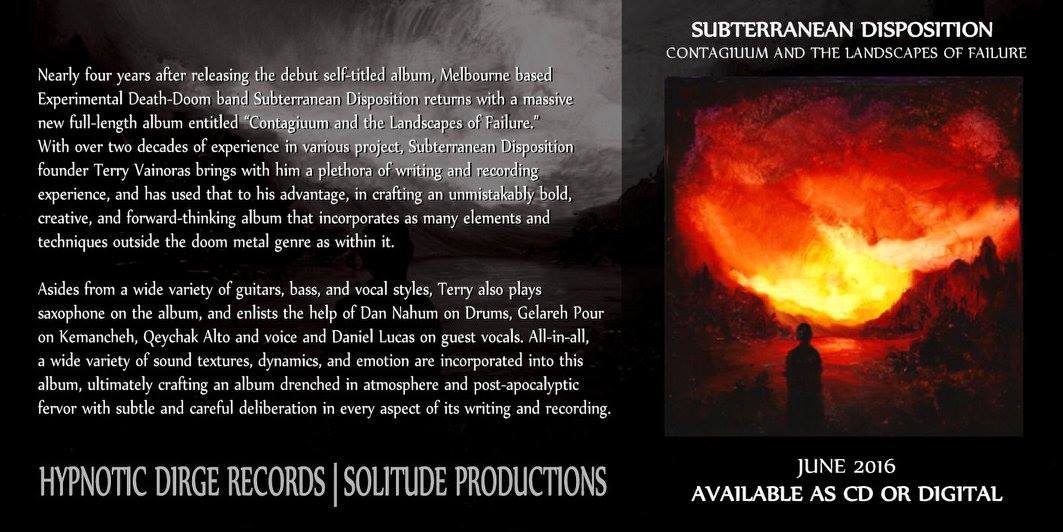 Subterranean Disposition - The Most Subtle of Storms
Released: April 14, 2012

Subterranean Disposition - Prolong This Agony
Released: October 13, 2012
Subterranean Disposition - All Roads Lead to Perdition
Released: May 17, 2016