HDR - 012 : Symbiosis/Ancient Tundra - These Engulfing Winds Never Die CD/DVD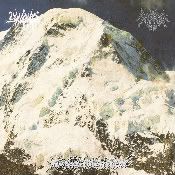 Released: March 14th, 2010
Details: Professionally mastered CD-r and DVD-r, 12 page booklet/Super Jewel Box Packaging - Unlimited QuantityGenre: Classical/Dark Ambient
______________________________________________________________________________
From: The Werkshed
http://thewerkshed.blogspot.com/
Here we have the latest release from both Italian dark ambient artist Symbiosis and Canadian neo-classical ambient artist Ancient Tundra. Few and far between is the split album that actually works throughout its entirety. Split albums usually work best when each artists offering compliments the other while still retaining the ability to stand on its own. Fortunately for this album, its works in the manner in which most split albums fail. This album is also unique in the respect that it is a CD/DVD combination release, so both the audio and visual mediums are explored to their fullest ability. Thus, the album will be reviewed in two phases; audio and visual.
Audio;
The album starts with the offering from the project Symbiosis. This project has been around for quite some time, having numerous releases on various labels. This release finds the project honing some of its most developed and intricate compositions to date. Enveloping, atmospheric and fresh sounding, the sound is best described as neo-classical inspired dark ambient music. Classical styled instruments make up the bulk of the soundscape, drifting between somber, haunting and epic. Symbiosis creates a sound that is much like the soundtrack to an album that does not currently exist. The movements are sweeping and charismatically cinematic. While listening to his half of the album, I continually found myself visualizing an overtly abstract piece of film noir playing out as each track entered and faded back into the abyssic mind of the projects creator. All of this ends on the hauntingly somber finish of his portion of the split; a distant, harrowingly epic musical piece that fades away on an almost hopeful note, thus laying the framework for the second half of the split to enter.
The Ancient Tundra half of the album begins with a cyclical sounding synthesizer that almost gives the illusion of being trapped in a glacier. Everything can be seen, but has a thick sheet of ice obscuring its true identity, freezing you alive while you try to look out and get a last glimpse of life before dying. The overall feeling from the Ancient Tundra half of the record is very mournful and almost like the idea of eternal winter; frost covers the plains, seeds freeze and rot in the ground, all is lost to the great mystery of nature. Ancient Tundra also manages to infuse his works with some haunting vocals and minimalist percussion to add a bit more depth to the melancholy. I must also add that his second track "Land of The Midnight Sun" is one of the most depressing and mournful ambient pieces I have ever listened to. Its very dirge-like and sorrowful, almost like the song to be played at the funeral of the person you most love. His half of the album ends with what almost sounds like the second movement of the first track, ending his portion on the same kind of feeling that it opened with.
Visual;
The DVD portion of the album is split into 3 sections; one for Symbiosis, one for the label (promotional videos) and one for Ancient Tundra. The Symbiosis section of the DVD is made up of 3 videos, one of a Symbiosis track not featured on the album and two for the artist's solo project. The Symbiosis video is somewhat of a narrative slideshow kind of video. Still images are presented (of people in nature, nature itself, space, etc.) with overlays of text to tell a bit of a story. The bulk of the text is in what appears to be Italian, so I cannot recite what exactly it speaks of, but based on the imagery used, it is some kind of story that involves the tale of a land far away in the throes of the deepest winter. The other two videos are super abstract collages of random imagery allied with dark militant-esque industrial musical pieces. Shapes move to and fro with snippets of people, candles, architectural works, color treatments, etc. The Ancient Tundra portion of the DVD was a bit more of what I had expected to see; landscapes of winter set to music. Each track from the AT side of the split is given a video treatment, as well as an track not on the album and a montage of the original footage from the first 3 videos. I think the visuals used in the AT portion of the DVD were selected well and fit the sound/theme of the music to a T. Desolate landscapes, barren trees, a single person walking amidst a sea of snow, all compliment the chilling and somber tone of his soundscapes. The color patterns in the AT videos are also very fitting, cold color patterns and tone evoke the feeling of the music. Many of vignettes are slowed down and progressively take form over the span of the track.
Overall;
I enjoyed this release quite a bit. I found the attention to detail was well formed and complimented the release the way it needs to be, in order to be fully realized. The sound production is clear, vast and easy to enjoy. The video production is of medium quality, but fits the music perfectly. I personally enjoyed the Ancient Tundra side of the split more, not to say the Symbiosis half was bad, because it was quite good, but the AT material was a bit more to my liking. Plus I also think the AT portion of the release was a bit more fully realized and cohesive to the concept of the album. But overall I found this album/package to be very enjoyable in all its aspects. I must also say the packaging was nice as well, a super jewel box layout, which contained a booklet with some stunning landscape photography.I would recommend this album to fans of ambient and/or neo-classical music. Even to those who enjoy soundscape based music, as the album has a very cinematic quality throughout its duration. This is a great slab of dark ambient music, cannot wait to see what both artists have in store for the future.
Reviewed by E.
- Symbiosis side = 7/10 - Ancient Tundra side = 8/10
_______________________________________________________________________________
From:Defiance Web-zine
http://www.myspace.com/defiancemagazine
I came across Ancient Tundra last year and I was sceptical, as I was when I was sent this album to review. This split CD by Symbiosis and Ancient Tundra on the other hand has now helped me change my mind.
Beautiful compositions by both bands help this album stand out on the Dark Ambient side of life. With both band complimenting each other well with tracks "Il Trionfo della Caducito" by Symbiosis and "Land of the Midnight Sun" by Ancient Tundra standing out for me, this is one nice album put together very well. It's relaxing and peaceful but yet insightful and deep.
A great effort by both bands on this album, which has helped convert this reviewer to their musical side.
Reviewed by: Acid Angel
_______________________________________________________________________________
From: Lunar Hypnosis
http://lunarhypnosis.blogspot.com/
'These Engulfing Winds Never Die' is a split CD-r album connecting Symbiosis and Ancient Tundra on Hypnotic Dirge Records, which is also a record label that's completely new to me. The album comes packaged in a fancy jewel case with a 12-page booklet and a region free DVD-r, which features promo videos of the two bands as well as trailers for other releases on the label.
Symbiosis is an Italian ambient band lead by Valerio Orlandini, which I've known about since mid-2006 when Valerio sent me his first demo for review on Lunar Hypnosis. So, Symbiosis kicks off this split and although I had expected it to be new songs it seems that's quite the opposite here (somewhat). The first song, 'Intro – Slavine di Luce' is the same intro piece found on the project's 2008 debut, 'Slavine,' and it sets the stage perfectly for some calm wintry ambient music. However the second song, 'Il Trionfo della Caducità' was originally featured on a promo CD for labels/radios only in late 2007, and this particular song shows a much different side to Symbiosis that's a bit more akin to martial symphonic music or something along the lines of heroic medieval soundtrack music.. The third song, 'Sol Indiges' is also another old demo song, I think, but from which release I don't recall. Anyway, it's a decent melodic ambient piece, but it sounds a little too upbeat for my tastes. 'As I Remember' is the first new song from Symbiosis and its pure dark wintry ambient music with even the sound of harsh wind roaring in the background, while the last song, 'Luce Invernale' is apparently a re-recording of another song from Slavine, though it doesn't sound too different to me.
Ancient Tundra is the other band on this split and this is my first time hearing this project of N. Skog from Canada. Ancient Tundra's music is once again within the ambient genre and is quite engaging music as well. We're dealing with pure wintry ambient music here that's truly able to transport my thoughts to a realm of frozen beauty and if I allow my eyes to close I can feel my body leaving as well. Ancient Tundra's music is fairly melodic in its delivery, but remains calm enough where you can relax to it or read a book while listening. There are also some indistinguishable voices present, but they don't distract the mood at all and in fact just make the music all the more interesting on this arctic voyage. In particular I enjoy, 'Land of the Midnight Sun' the best, though the other two songs are fantastic as well. I would have actually preferred at least one more AT song on this split since it's just a little under fifty minutes and I see no reason to not make an ambient release at least an hour in length. I've read that some of the other releases from this band have some black and doom metal characteristics; nevertheless impressive stuff here and I look forward to hearing more from Ancient Tundra regardless of style.
As for the DVD, well, once I figured out the menus I was good to go, and as previously mentioned we've got promo videos for Symbiosis and Ancient Tundra here. Some of the Symbiosis videos are a little more abstract, weird and even feature songs that are not on this split. 'E Ultima Venne la Neve' is the most interesting video that features both various landscape shots, but also some drawings, though I'm not sure where they originate from. On the other hand, Ancient Tundra's songs primarily feature frozen nature landscapes set to his music, which seems to work perfectly, although in some cases the visuals that are shown throughout the video appear over and over again. So, not quite as cool as some of Vinterriket promo videos out there, but still interesting enough to hold my attention. Additionally there are trailer slide show type of videos promoting other Hypnotic Dirge Records releases, which after watching I can honestly say there are some really interesting bands on this label that I might have to investigate eventually. The one thing that really bothered me (and it could just be my TV or DVD) was that when text would appear on the screen it was often partly cut off on the sides, but it could just be my set up and not the DVD itself.
As a whole this is some really interesting ambient music and if you've enjoyed Symbiosis as I have the past couple of years then I'm sure you'll want to check it out. Of course it will also serve to introduce you to the very interesting Ancient Tundra, which as I spoke earlier, I really need to hear more from soon.
Reviewed by: Joe Mlodik
_______________________________________________________________________________
From: Hierophant-Nox Webzine
www.hierophant-nox.com
Another well-designed package from Canada's Hypnotic Dirge Records, this time a split between two one-man ambient acts, Valerio's Symbiosis and label owner Nick Skog's Ancient Tundra. "These Engulfing Winds Never Die" goes way beyond your usual CD-R release, incorporating as it does not only the audio elements, which are impressive enough alone, but also experimental video contributions from not only the featured acts, but also many others from the HDR roster.
In terms of musical approach, this is a clever pairing. Symbiosis may be gentler, but it also exhibits a feature that I've mentioned when discussing Ancient Tundra in the past – a great sense of narrative and movement. The five tracks contributed by Valerio to this split are very thoughtful, 'neoclassical' but not in an irritatingly trendy way, regal almost, often warm, working on a grand scale when necessary. The second composition, "Il Trionfo della Caducita", has a truly fantastical feel reminiscent in approach to Mortiis's early work, but really, Symbiosis is a unique creation, with "Se una Notte d'Inverno un Viaggiatore" especially proving very sophisticated and poised, maintaining a threat that has no need to escalate. "Sol Indiges" and "Luce Invernale" are striking too, with structures led by bold, lonely piano shapes.
Ancient Tundra provides three tracks, each of which is strong and memorable. More forceful in its deployment of synths, this act nevertheless manages to shift through varied moods and movements in the course of a composition; "I Walk Through Vast White Fields" is a good example, its eventual crest of synths as awesome as it is unexpected, and Skog's whispered vocals providing, as per usual, a real highlight. "Land of the Midnight Sun" is grand and shimmering, romantic almost, anchored by a nicely repetitive main melody, whilst "Kvoloya Island" manages, despite its cold grandeur, to be both involved and intense. What I've liked most about previous Ancient Tundra releases is the careful and clever manner in which each track has developed, and the offerings on "These Engulfing Winds Never Die" don't disappoint.
Symbiosis and Ancient Tundra provide imaginative journeys on the audio side, but it's in video format that they truly come to life. Having listened to Ancient Tundra for some time, I was captivated by the images that Skog has pulled together for their videos; "I Walk Through Vast While Fields" is represented very literally, showcasing some vast, frozen scenery, whilst "And Silence Finally Prevails…" has an abandoned urban-industrial edge which is just as fitting to the music. Also provided is a montage of nature scenes; watching the tiny, endless ice particles drift across the Canadian roads gave me actual chills! If you've encountered Skog's photography at all, the style of his videos and montages will be familiar – they're something you can get lost in for hours. Symbiosis, by contrast, offer up something more abstract, providing videos for a further unheard track, as well as two of Orlando's other creations. The scenes from nature and scrolling text that accompany "E Ultima Venne la Neve" are fascinating, but it's the unsettling fusion of human and electronic imagery that makes up the film "Elettrosanto" that's most striking – you'll have to try it to see what I mean.
In all, "These Engulfing Winds Never Die" is the kind of release you rarely ever see; so much work has gone into its creation, and it offers an incredible amount of immersion in the world of the two artists featured. What's best about this is that they're both very worthy of such attention, and work fantastically in tandem. I know that since I first experienced it a couple of months ago, Skog has put Ancient Tundra 'on ice' (sorry!), and so fans are even luckier to have this monument to his achievement. Remarkable.
Reviewer: Ellen Simpson
90/100
_____________________________________________________________________________________